The housing update has been added to Global Maplestory with it comes alot of new things to collect and earn.
First of all accept the quest called [Home] Intro to Interior Design and go through the cutscenes and questline.
Enter your home via character window as shown below
You will unlock the following at the top of your screen for editing your home
General Hud:
From left to right
Build: Allows you to customize your home and change its interior and exterior design
Furnishing Storage: Allows you to view all the furniture you collected as well as sell them
Place Furnishing: Allows you to place your furniture inside your home
Community: Allows you to invite others to your home or visit others
Caretaker: Allows you to talk to your npc's daily to grab buffs and increase their stats
Settings: Allows you to change your settings like zoom in or zoom out of the map and restrict invites and who can visit
Lets start with the important aspects:
Furnishing Storage:
Shopping Window:
Shopping window is a real important feature of the housing system. Starting with mushroom house and old world you can send your NPC to go shopping for 9hours to which he/she will come back with new furniture. The new furniture will be given at random from the list of the furnishing pack you chose for the NPC to shop at.
In order to unlock other Furnishing Packs you must complete the Furniture collection quests. These require you to have a certain amount of furniture earned in your collection like 20/20 furnitures then you do the quest given to you to unlock the specific packs.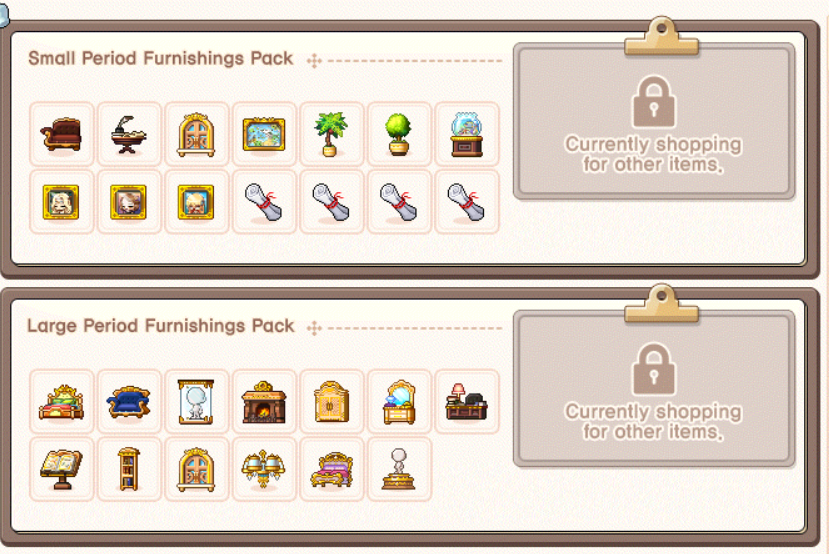 Home Storage
Here you can view all your furniture you collected from bosses and shopping and place your furniture as well.
You can right click each object to sell furnishing and get a chance to earn Home Coins which can be used to buy more furniture or upgrade your home.
Miranda's Shop will sell furniture and she will randomly refresh with a piece of furniture you can buy from her using mesos. Home coins are required for the sample packs. Only one item sold for mesos will appear in the shop each day.
Kenneth's Shop will sell blueprints to expand upon your overall home design and upgrades. You must convert home coins to Querencia coins then use those to purchase your home upgrades.
Home Caretaker information:
By clicking on your NPC at your home you can view their Stats and relocate them in your house.
There is 3 npc's to choose from. One of them is Jenny who you unlock as you further upgrade your house
Talk to the NPC daily to increase their stats.
Click receive buff to receive a daily buff ranging from EXP to boss attack.
Buff Information:
There are 6 levels to the buffs.
The more you interact with your NPC the more your closeness increases. Every 20 closeness raises your buff 1 level higher. Below is a chart of the buffs
| | | | | | | |
| --- | --- | --- | --- | --- | --- | --- |
| | Level 1 | Level 2 | Level 3 | Level 4 | Level 5 | Level 6 |
| Bonus EXP | 5% | 6% | 7% | 8% | 9% | 10% |
| Boss Damage | 10% | 11% | 12% | 13% | 14% | 15% |
| ATT/M.ATT | 15 | 18 | 21 | 24 | 27 | 30 |
| Crit Rate | 10% | 12% | 14% | 16% | 18% | 20% |
Chart Source: Created by: twitch.tv/Distraction
Furniture from Bosses:
You can earn furniture from bosses stated below. DO NOTE that furniture drop is shared with others in party. Item Drop Rate does effect the drop of furniture
Balrog: Balrog-Horn Throne
OMNI-CLN: OMNI-CLN Vacuum
Ursus: Ursus's Potted Lifetree
Hilla (Hard): Hilla Obelisk Floor Lamp
Zakum (Chaos): Zakum Hand Table
Pierre (Chaos): Pierre Umbrella Stand
Crimson Queen (Chaos): Crimson Queen Vanity Table
Magnus (Hard): Magnus Horn Throne
Vellum (Chaos): Vellum Lava Bathtub
Papulatus (Chaos): Papulatus Wall Clock
Horntail (Chaos): Horntail Fountain
Von Leon (Hard): Lion Ice Sculpture
Arkarium (Normal): Arkarium Statue
Pink Bean (Chaos): Pink Bean Armchair
Lotus (Hard): Orchid's Plush Bunny
Lucid (Hard): Lucid's Canopy Bed
Dorothy: Ryude's Sword
Von Bon (Chaos): Von Bon Windup Clock
Cygnus (Normal): Cygnus' Stuffed Doll Shelf
Damien (Hard): Damien's Sword
Will (Hard): Will's Spiderweb Hammock Chair
Darknell (Hard): Darknell's Helmet Decoration
Seren (Hard): Holy Sword Wall Decoration
Dyle: Dyle's Board Game Table
Seruf: Seruf's Clam Bed
Guardian Angel Slime (Chaos): Guardian Angel Slime Fountain
Gloom (Chaos): Gloom Dark Bean Bag
Verus Hilla (Hard): Soul Candle
Black Mage: Black Mage's Mirror
These furnishings will be a shared reward.
Item drop rate increase effect does apply to these furnishings.
Here is a preview of all boss furniture: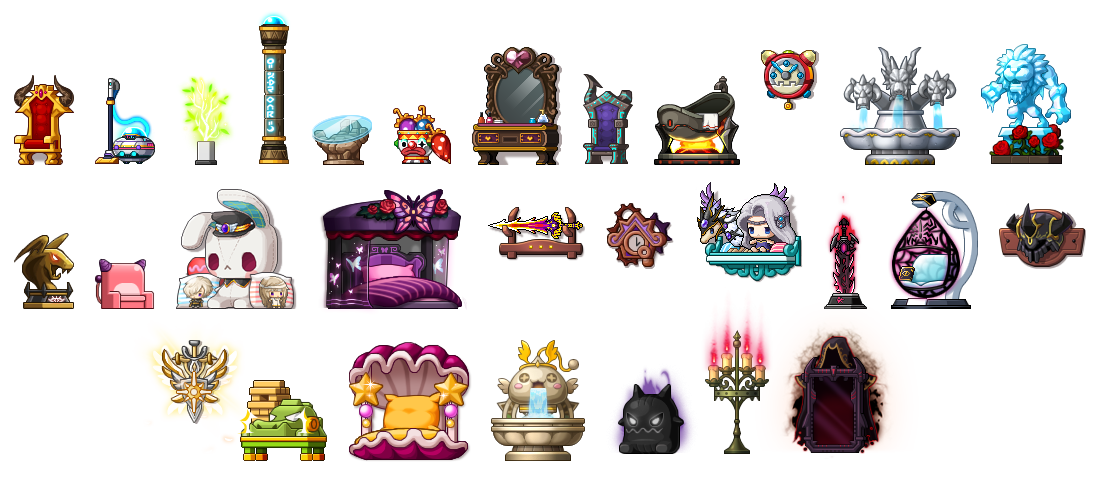 The only daily bosses that drop furniture is basically:
Hard Von Leon, Chaos Horntail, OMNI-CLN, and Normal Arkarium
Remainder are weekly.
Useful Furniture from Shopping Packs:
Below is a preview of useful furniture with features such as being able to use profession in your home. These are earned from furnishing packs.
How to Unlock Other Furnishing Packs:
Short Summary
Talk to your NPC daily to increase their stats. Collect your buffs daily.
Send your NPC shopping every 7-9hours stated in each pack. Farm weekly and daily bosses for furniture. Use home coins to buy more furniture and sell any furniture you dont want for home coins.
That is the only way to earn home coins currently and you may sometimes get them from home quests or NPCs.
Housing Designs and Upgrades (unconfirmed):
Expanded Townhouse Packs:
Though not 100% confirmed due to translation I believe above is a sample of the Expanded townhouse bundle
Expanded Colonial-Style home
Expanded Mushroom House
Helpful Links:

Maplestory House Creator:
Cabin Simulator – Maple Valley My Cottage Simulator (maplestory-home-simulator.vercel.app)