This guide will cover the importance of professions.
Overall my personal recommendation for professions is Smithing + mining.
Talk to Gere to learn Smithing
Quick Guide to level 5 Smithing by Koharu Nomi
Quick guide on getting smithing to level 5 so you can dissemble all equips for superior item crystals:
This method is great on alts and mules as you can sell these crystals for anywhere between 200k-500k depending on the AH at the time. Alternatively, you can stockpile these crystals for when you become a master smither for master craftman's cubes (MCCs). – Go to Ardent, talk to Grant – Talk to Natick and buy 51 basic molds – Talk to Cole and learn Mining – Talk to Gere and learn Smithing – Go to Cole's Mine field and collect 2 faded silver ore – Go to Cole and smelt 1 faded silver plate – Complete the questline forCole's Mining Bag (4 slots bag) – Go to the first mining field and mine a combination of up to 72 silver AND/OR opal ore from Silver Veins —- SUPER IMPORTANT: make sure they're in multiples of 2s so you can refine them into plates – Go to Cole and refine all the ore you just mined – Go to Gere and smelt Quality Arrows in the following chart
My Guide On Level 5-10 Smithing
Create the specific arrows for your smithing level as shown in the screenshots to raise your smithing to level 10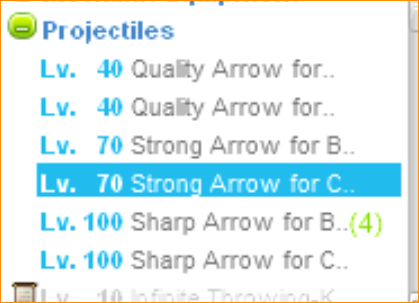 Level 10 To master and Meister Profession
Timeless or Reverse gloves & shoes are the ones I recommend to raise your smithing past level 10 to reach master profession. Once at master profession you can then craft cubes to meister profession.
Once you reach master and meister profession do note that the professions can downgrade and you can lose your profession levels back to Level 10. So do craft cubes or other items often to prevent loss of profession levels.
Items required for Master/Meister Cubes
Superior Item Crystals: Farm bosses and mobs for equipment and disassemble them to convert to item crystals. Items that are over Level 140+ have a higher chance at converting to superior item crystals.
Click the gear icon bottom right to dissassemble your items in ardent mill.
Cubic Blades: Cubic Blades can be earned via bosses as well as commerci solo and party pq. You can also earn cubic blades from mini-bosses in training maps and ebosses. Cubic Blades can also be sold and bought via auction house
Cube Fragment: You can disassemble occult cubes if there is a person in Ardentmill with a extractor. They can also be earned from mobs, bosses, and ebosses. Can also be purchased and sold in Auction House.
Superior Abrasives: Talk to Nack to purchase the superior abrasives to buy for mesos at the top left-hand corner of ardent mill
Meister Cubes:
Meister cubes are basically the same except they require more materials and chaos cubic blades. The drops on chaos cubic can be a bit more rare then regular cubics and cost more in auction house
Do note when crafting cubes there is a 5min cooldown between each cubes which can sadly be strenuous and take time.
Master cubes = tier to Unique
Meister Cubes = Tier to legendary