Gearing Up (will update as time goes by):
There are several items one will switch to come end-game as such equipment can vary depending upon how far you are into the game or how much $$$ you burn.
My personal recommendation are the following starting out:
(For this example I will be using the warrior set for warrior classes the names for your equipment will vary depending upon your class)
4 Piece Absolab Set (Click Here on How to Earn The Absolab Set):
The 4 Piece Absolab set include the following,
3 Piece CRA (Top, Bottom, Hat) (Click Here On How To Earn The CRA Set)
For End Game Arcane Umbra equipment is recommended due to its set effects. At least 5 set effect is recommended
Weapon Type
Arcane umbra is highly recommended for end-game. Prices for these weapons have now dropped by alot so before you fully upgrade a weapon do purchase an arcane umbra one for your class.
Accessories
These accessories are more so for end-game mid-game but I recommend aiming for these down the line
Face Accessory:
Sweetwater Tattoo can be purchased from the NPC Javert for 250 coins
Check Out the Commerci Pre-quest guide and how to farm denaros by clicking here
If you do not have the sweetwater tattoo you can temporarily use
Try to aim for one with a decent amount of your base stat + 5%+ all stat
For the true end-game and for whales Berserked is the best face accessory to get.
Eye Accessory
If you do not have a Sweetwater monocle then you can aim for a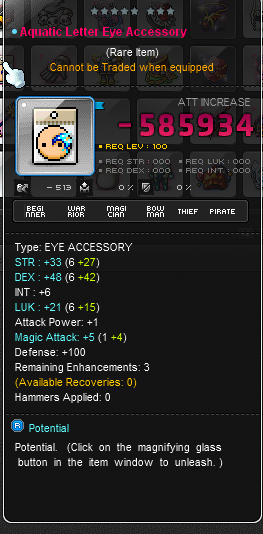 Try to aim for one with a decent amount of your base stat + 5%+ all stat
Rings
Your rings will vary greatly depending upon your budget and events.
The basic end-game rings are:
Solid Gollux Ring, Reinforced Gollux Ring, and Superior Gollux Ring as 3 of the rings
The 4th slot can be an event ring if your feeling cheap or a Meister Ring. Best overall ring though now that is within several players price ranges is the Guardian Angel Ring
Price point wise there are also other rings such as the Glona's Heart and the most expensive ring in the game the Breath of Divinity.
Earrings
There are several earrings you can aim for but for end-game / mid-game I recommend Superior Gollux Earrings.
Check Out The Guide for everything Gollux Related
Pocket Item
Pink Holy Cup is the recommended pocket item to get thats within affordability. This pocket item is dropped from Chaos Pink Bean. Its best to buy one with atleast +50 of your base stat or one with your base stat and all %.
There are also spellbooks which cost alot but are one of the best in slots.
Badges
There are a variety of badges that can be earned. Either through events, gacha, or auction house.
Try going for one with atleast 10 attack.